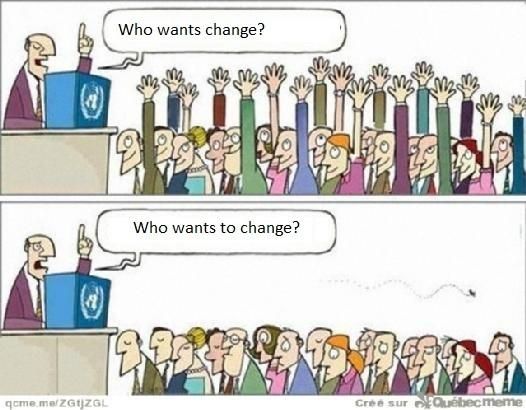 {image is a cartoon depicting a speaker at a lectern in front of a crowd. When he asks, "Who wants change?" all the hands are raised. When he asks, "Who wants to change?" not a single hand is up.}
–
Inclusion is about a sense of belonging, about feeling respected, valued for who you are. It is an all-encompassing practice of ensuring that people of differing abilities related to, for example, sex, age, and race, feel a sense of belonging, are engaged, and are connected to the goals and objectives of the whole wider society."
Buyie Masuku
When we talk about inclusion vis-à-vis disability, many of us conjure up an image of kids in school – of an educational setting that welcomes all learners and a teacher-led culture of acceptance. We are very comfortable fighting for the inclusion of special education students in general ed classrooms, demanding their involvement in nearly every aspect of academic life.
I once wrote that (educational) inclusion doesn't – can't – mean throwing everyone in a room together and hoping for the best. In order to work, I said, inclusion has to be thoughtfully designed. It must be painstakingly planned and executed. It must be FLEXIBLE and agile – constantly able to evolve and change as the needs and skills of those involved evolve and change – and it must be constantly monitored so as to see where those changes are occurring in real time.
And so we beseech our children's educators to do the day to day work that real inclusion requires. And, in holding their feet to the fire, we think we've done our job for our kids. But schools aren't where inclusion ends. If we're doing it right, they are simply where it begins.
Kids grow up. They become adults. And every single aspect of society – from our houses of worship to our places of employment to restaurants and amusement parks and theaters and shops and ANY and EVERY place that human beings go MUST be settings that welcome all with a deeply ingrained culture of acceptance.
WE are the kids who grew up. How are we treating one another? Are we creating inclusive spaces? Are we flexible, agile, compassionate? Are we actively seeking or creating opportunities to make the places that we inhabit accessible to those still outside our walls? Are we paying attention to our own behavior?
Last week, something happened that forced a friend (and fellow mom of an autistic child) and I to face some hard truths. We had invited an autistic friend to participate in something and then gone merrily on our way, planning it around rather than with them. When we realized what was happening, we were horrified and ashamed. Looking in the mirror is not always an easy exercise.
Years ago, when Brooke was in elementary school, Luau and I found out that she spent a lot of her time sitting in the back of her theoretically integrated classroom, doing totally different lessons than the other kids with her aide. We were outraged. Geographical inclusion, we railed, is not inclusion at all. It's simply putting someone in the room and claiming that they are thereby a part of what's happening in it.
Embarrassingly, that's exactly what my friend and I had inadvertently done. We'd invited an autistic friend into the room and then failed to ask for their input, their involvement, their participation – less what WE had decided they should or could do.
Thankfully, we caught ourselves. We took a step back and started over. But how many times does our own inherently ableist behavior go unchecked? How many times do we open the door and think that's enough?
It's not.